Welcome to Yoga for the Brain, a place to discover how to have a healthy brain no matter how old you are...and have fun doing it!
If you want to:
Sleep Better
Stay Sharp and Reduce the Risk of Alzheimer's, Dementia, and Other Diseases
Keep Your Brain Nimble
Have Fun!
Reduce Stress
"Sitting down with the book is a great way to relax and stretch those brain muscles. I can see why the puzzles are considered 'yoga for the brain'! These books are highly recommended for those looking for puzzles, relaxation, inspiration and enjoyment!"
Carla Trueheart for Reader's Favorite
Puzzle Books with Heart
Award winning Yoga for the Brain books are great fun, relaxing and good for your mental health, but that's not all! What makes this series so special is that it is uniquely created to share positive stories through the power of play.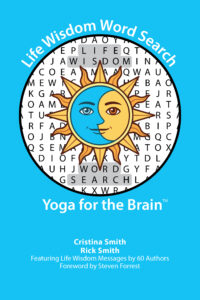 Life Wisdom Word Search
Discover goodies galore to enjoy inside. Insightful inspiring stories. Secret messages. Brain training fun. Positive affirmations to help make your life better. Chicken soup for your brain and soul, Life Wisdom Word Search invites you to play!