Four years ago this month a dream came true. A dream to help people relax, have more fun and keep their brains nimble – all with uplifting, life affirming messages. That's when my brother Rick and I, along with a dear colleague and friend Darity Wesley, launched Yoga for the Brain's first word puzzle book: The Word Search Oracle.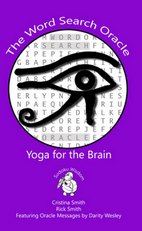 Sometimes you just don't know how a passion is going to start. That's how it was for me when I was bored on a plane on my way to see Rick and I tried to do a sudoku puzzle. Let's just say it wasn't easy. I ended up challenging myself and starting a journey that four years later has resulted in the award-winning Yoga for the Brain Word Search series. Click on our purple cover to find out more, get your own copy or gift one!
It is an honor to have touched, in a positive way, the lives of thousands of people. All with a dream. And like many dreams, it was not accomplished alone. Darity, as the Oracle she is, shared her messages of wisdom and joy, feeding this nascent series. You can learn a little more about our very own modern day Oracle and journey with her into the New Reality below.
And this celebration would not be complete without making merry with all of you. In ways large and small everyday, you help empower others while giving life to your own dreams. And that's really something to celebrate!